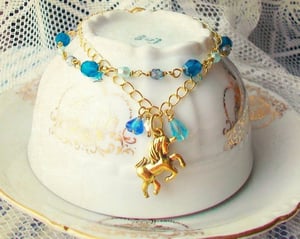 €

18.00
"Treasures" collection
Vintage style gold filled beaded bracelet with a unicorn charm and glass beads. This is a double bracelet: one simple chain and one beaded chain.
"Treasures" collection
Bracciale con ciondolo dorato a forma di unicorno, e perle in vetro. Questo è un bracciale doppio: un giro di catena semplice e un giro di perline.
Handmade by PetiteFraise
Before buying, read carefully all the infos clicking on "Payment and shipping" on the right.
Prima di acquistare, leggi attentamente le info su spedizione e pagamento cliccando su "Payment and shipping" nella colonna a destra.