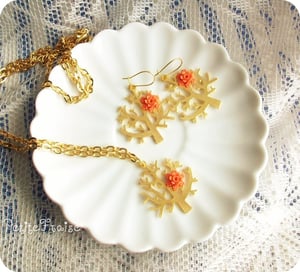 €

20.00
"Treasures" collection
Vintage style necklace and earrings with a golden plated tree charm and a resin flower on it.
You have three options.
-You can buy the jewelry set necklace+earrings €20
-you can buy only the necklace €15
-you can buy only the earrings €8
Just select your choice here below in the drop-down menu.
Collezione "Treasures"
Collana in stile vintage con ciondolo dorato rappresentante un albero e un fiore in resina su di esso.
Avete tre opzioni.
-potete acquistare la parure completa collana+orecchini a €20
-potete acquistare solo la collana a €15
-potete acquistare solo gli orecchini a €8
Per farlo, selezionate la vostra scelta dal menu a tendina.
Handmade by PetiteFraise
Before buying, read carefully all the infos clicking on "Payment and shipping" on the right.
Prima di acquistare, leggi attentamente le info su spedizione e pagamento cliccando su "Payment and shipping" nella colonna a destra.