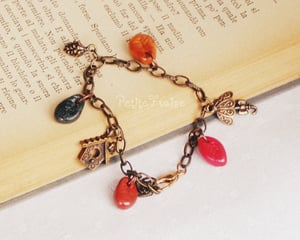 €

15.00
"Treasures" collection
Vintage style charm bracelet with fall inspired charms: a birdhouse, an umbrella, a pine cone and polymer clay leaves.
One of a kind.
"Treasures" collection
Bracciale in ottone anticato con ciondoli ispirati all'autunno: foglie in pasta modellabile (fimo) fatte a mano, una casetta degli uccellini, un ombrello e una pigna in ottone anticato.
Pezzo unico.
Handmade by PetiteFraise
Before buying, read carefully all the infos clicking on "Payment and shipping" on the right.
Prima di acquistare, leggi attentamente le info su spedizione e pagamento cliccando su "Payment and shipping" nella colonna a destra.